General Information
The 8th Annual Run Lucky 5k and Mission Mile Fun Run is scheduled for Sunday, March 11, 2018 in Midtown, Oklahoma City. Run Lucky is hosted by Friends of LLS with all net proceeds from this event will benefiting The Leukemia and Lymphoma Society.
Route
After a successful first year along the new route in Midtown, the race will start start and finish at Fassler Hall.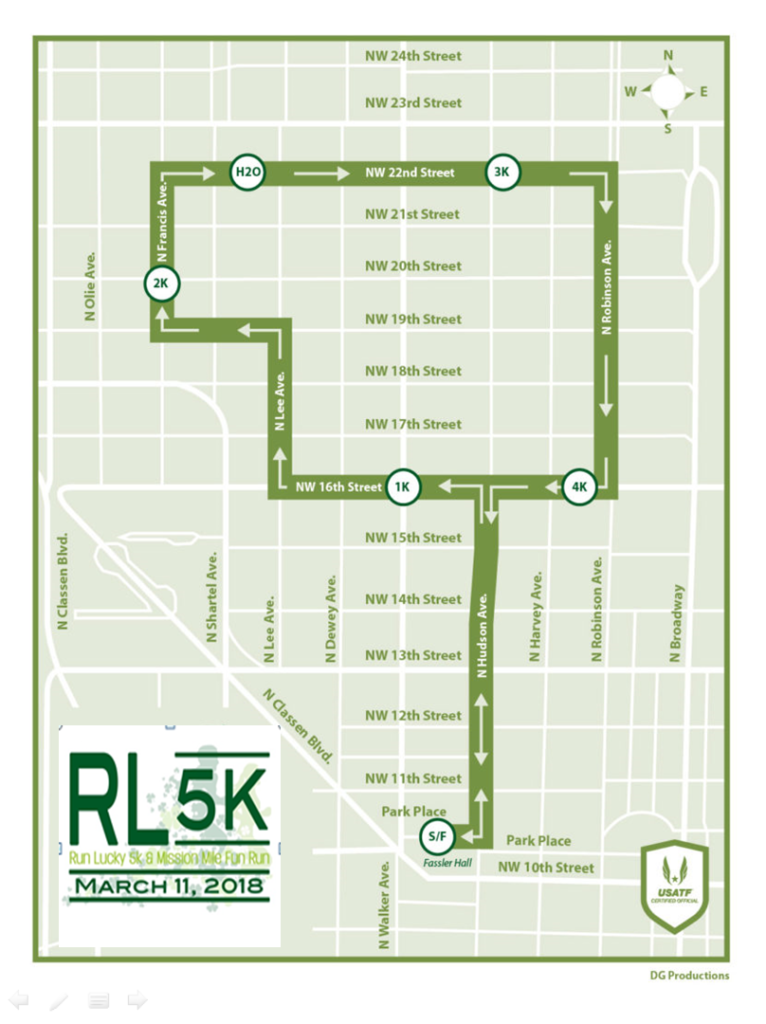 Event Schedule
The Mission Mile Fun Run will start at 1:30 PM, and the 5k will start at 2 PM. The Awards Ceremony and Costume Contest will take place at 3 PM at the finish line area.
Registration
Registration is now open!  Registration is $25 thru Dec 31; $30 thru March 9; $40 thru March 11.  To register, click here.  You may also register the day of the race at the Registration Tent, located behind Fassler Hall in Midtown OKC located here.
Honor Listing on Shirts
You may have the name of a person whose life has been affected by cancer printed on the back of every race shirt for an additional fee of $25 per name.  Help us raise money while you honor a loved one!  Deadline: January 20, 2018. 
Costume Contest
Costumes are strongly encouraged! We'll host a costume contest following the race (around 3 PM). We will have two contests – one for children (13 years and younger), and one of adults. Anyone can come out and run, but it takes a special person to do it dressed as a leprechaun!
After Party
Green beer will be served to all participants at the finish line! You must be 21 years old+ to receive your free beer. Make sure to bring an ID! Awards will be presented after the 5k is finished. Fast accurate results will be furnished by DG Productions and posted to DG's web page here.
Awards
There will be an awards ceremony follow the 5k race around 3PM.  Special awards will be given to the first overall male and female. Age group awards will be three deep to male and female finishers in the standard 5 year divisions. Youth age groups begin at 12 and under. Oldest age group is 75 and over.